Did you know that the number of smartphone users in the world is projected to reach 5,575 million by 2025? However, smartphone users have already surpassed the number of desktop users a long time ago. In this Mobile Affiliate Marketing guide, we'll walk you through everything you need to know about mobile affiliate marketing.
With an immense increase in mobile phone users, the marketing realm has taken a drastic shift towards advertising through digital means. These digital means could be social media, websites, online events, or any source of online advertising. This massive traffic also means a greater opportunity for affiliate marketers to make money by sending traffic, generating leads, and increasing sales of the product or offers.
Before we get into the details of how you can start your own mobile affiliate marketing business, let's get to know this marketing tactic properly.
What is Mobile Affiliate Marketing?
As smartphone usage has grown rapidly over the past couple of years, the potential to reach a targeted audience has also increased. Mobile Affiliate Marketer is one who promotes the services or the products of a stakeholder or a service provider in exchange for a cut.
The basic purpose of Mobile Affiliate Marketing is to promote the product or services of someone, targeting its potential audience. Although affiliate marketing ads can be viewed through mobile and desktop platforms, the sole purpose of mobile affiliate marketing is to target smartphone users and urge them to convert.
In other words, it's an agreement between someone who wants to sell something and the one willing to promote that product. Mobile affiliate marketing has become increasingly popular in the age of social media. Additionally, many large corporations now rely heavily on top influencers in their industry to promote their products or services. Unfortunately, it has become challenging to find affiliates. But that's not the only thing to worry about. In this dynamic digital era, you'll likely find an individual who better fits your particular needs and agrees on mutual terms.
Benefits of Mobile Affiliate Marketing
Broader Targeting Capacity
It is common thing for a marketer to know the fact that targeted offers perform better. Mobile affiliate marketers can leverage advanced targeting opportunities based on location. You can consider geofencing, for instance. It is a highly effective way to target customers with offers based on their location and in real time. US supermarket chain Whole Foods, for example, has geofences all around their stores that target known customers with personalized offers whenever they enter the vicinity. Interestingly, Whole Foods has also set up geofences around their competitors' stores as well. This incentivizes their competitors' customers to choose to shop at a nearby Whole Foods store instead. Owing to this, it's clear that there is a broader targeting capacity for affiliate marketers.
Quick Conversion Ability
Most affiliate offers to lead to a direct purchase on the company's website. Nowadays, people can buy almost everything on their phones within seconds. The buying process using a smartphone is quite simple, fast, and straightforward. Online shopping is evolving and becoming more common day by day.
Massive Outcomes
As mobile traffic is growing much faster than desktop traffic, there is a high chance that mobile marketing skyrockets its potential. This massive growth in the mobile market creates an opportunity for the marketer to generate more leads, sales, and traffic.
Customized Approach
In addition to a broader reach to the audience and a quick purchasing cycle, mobile affiliate marketing has the advantage of being more personal. You can outreach to potential customers in a way that they feel it's made for them. It is best practice to craft an ad copy that perfectly aligns with the type of product/service and the nature of the targeted audience. Although some of the customers are not immune to having their data tracked and gathered. But most still prefer content and ads tailored to their interests.
Top 6 Tips For Mobile Affiliate Marketing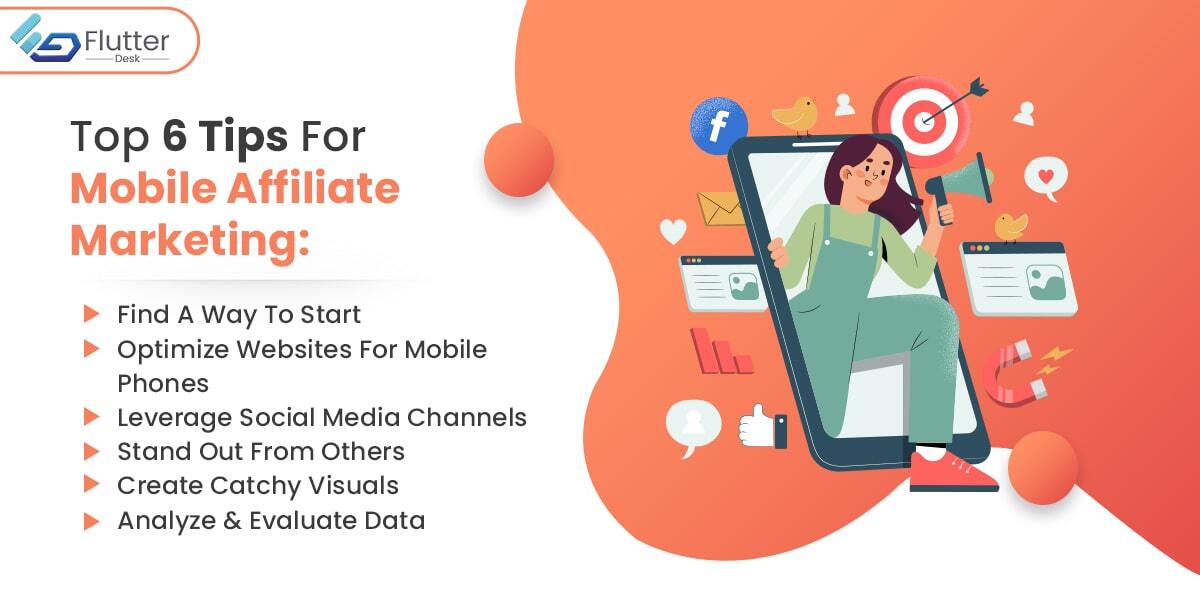 Find A Way To Start
It is most important to make a pathway and develop a strategy before starting any mobile affiliate marketing campaign. This step involves finding a large traffic source and setting your goals, analyzing the needs of the client. This will create better opportunities for affiliate marketers to achieve higher conversion rates and build a better relationship with the audience. Moreover, it will help you prioritize the growth of the right channels and promote the exact content in mobile affiliate marketing.
Optimize Websites For Mobile Phones
As you are going to reach your potential customers through mobile devices, you have to optimize the website on which you're running campaigns. This is because our audience is more likely to consume our content on their phones rather than on desktops. So you must not let the visitors wait for the website to respond and will perform any action. It's completely going to blow your leads away. Optimizing your website includes improving its responsiveness and speeding up its loading time.
Leverage Social Media Channels
It is the most basic approach for an advertising company to have its social media handles maintained. You'll not see an advertising company not having any social media presence but getting a lot of leads. This is because social media platforms have gained the trust and loyalty of users to make certain actions like purchasing an item, subscribing to any offer, etc. Social media handles have a vital role in portraying the authenticity of a brand. It results in increased conversions, better lead generation, and traffic boosts as well.
Stand Out From Others
It doesn't matter in what niche you are going to launch the campaign. You must have come across some real competition. You need to find a unique selling point from your competitors so that it adds value to the product or services that you're promoting.
Create Catchy Visuals
The graphical approach to any advertisement plays an important role in defining its performance. People usually get more attracted to visuals rather than textual content. Creating an ad copy that hooks the viewers is the best way to increase conversions. Make the visuals clean, easy to read, and eye-catching so that customers directly get hooked.
Analyze & Evaluate Data
When running a campaign online, continuous analysis and evaluation of data are very crucial. It helps prevent the wastage of money on non-effective campaigns. Analysis of data (impressions, clicks, conversions, etc.) allows you to decide if the campaign is going in the right direction or not. By evaluating the data, you'll filter out which campaign is performing better in case you're running more than one campaign.
Final Words
After going through all the thick and thin of mobile affiliate marketing, you must agree that it works. Obviously, the broadened user base for mobile phones is responsible for the significant response. Running a successful mobile affiliate campaign solely depends upon the strategy and roadmap which you opt for.
I hope this article helps you understand how mobile affiliate marketing works. In fact, you must have an idea of the dos and don'ts of affiliate marketing. If you are thinking about starting with affiliate marketing then there is no other way to start right away. You can hire flutter developer from flutterdesk to develop an app according to your needs. Dive into it, today!