These days, smartphone usage has increased and the potential for the apps to generate massive revenues has also increased. You must be wondering how free apps make money. Well, several proven app marketing strategies could uplift the potential of monetizing your app.
Mobile apps are a greater way for businesses to showcase their products or services and sell them right away. If you're new to mobile app development and want to know how free apps can make money then this article is for you. You'll get to know what possible approaches we can take to monetize mobile apps and start making money.
Before we move further, be informed that there are more than 4.5 million apps available on the app store and play store, collectively. This signifies that the competition to enter the arena of apps is tough. There must be a unique selling proposition in your app that helps stand out in the ocean of other apps already available.
You need to conduct thorough research on one particular idea and determine if it forecasts good results. It is better not to fall into scope creep during app development to avoid financial or any other losses. Moreover, validating your idea through an MVP is also a good approach to avoid scope creep. Let's discuss what possible marketing strategies could be fruitful for your app to make money.
Most Powerful Marketing Strategies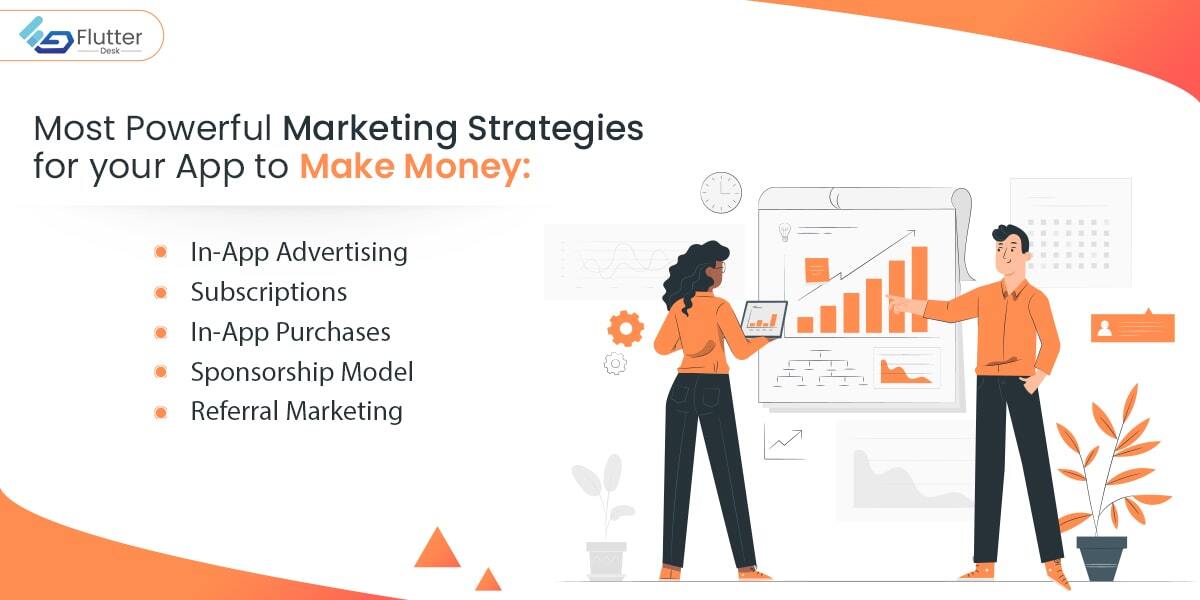 In-App Advertising
Mobile app advertising is the most common and highly valued app monetization strategy. Surprisingly, mobile app advertising spending reached 288 billion USD worldwide. Additionally, this mark is projected to reach 413 billion USD by 2024. So, do you still think that it isn't a worthy approach to make money from an app?
Whenever this question comes to mind how to make money from an app? Your first thought would be to go for ads to monetize the apps and make money. As the number of apps is increasing incredibly fast, the potential for advertisers to reach app owners is also increasing.
In-app advertising is considered to be an easy and simple way for app developers to make money. This is because an app owner just needs to display commercials or ads inside the app. Owing to this, the advertiser pays for the number of impressions, clicks, conversions, etc. There are different types of mobile app advertising in which you can outreach potential customers.
There are interstitial ads, banner ads, video ads, rewarded video ads, and native ads commonly. You can have a brief demonstration of all the types of in-app advertising by going through our previous blog release.
Subscriptions
You can also consider this monetization strategy as one of the most useful and finest approaches for generating in-app revenues. The subscription model works in a way that the app publisher offers access to the content for a constrained amount of time or gives access to limited features in the app. After all, the app owner could charge a subscription fee to grant access to dedicated resources or the whole of the app's content.
Subscription models are beneficial and recommended for apps offering services like cloud services, online audio/video streaming, online news, etc. In simple words, you can give access to limited features of the app for a lifetime and demand a subscription for full app features. Or you can offer a free trial to leverage app features for a limited time and require a subscription to use the app afterward.
In-App Purchases
Do you wonder how free apps make money? In-app purchases are one of the answers to this question. In-app purchases are direct acquisition monetizing models utilized by many apps. These in-app purchases intend to glorify user interaction by offering advanced features and virtual or digital goods. In simple words, in-app purchases help app owners sell their virtual items easily and generate revenues from them.
An in-app purchase could be the upgrading of an app to access more features. Additionally, it can be a purchase of visual or digital goods like gems, coins, gold, diamonds, and passes in gaming apps.
Gaming apps like Pokémon Go and Clash of Clans have generated massive revenues in the past. The Clash of Clans game earned 1 million USD per day in in-app purchases revenue. Moreover, Pokémon Go's revenue crossed over $1 billion, making it the top-grossing game in history.
There are three basic types of in-app purchases. Consumable, non-consumable, and subscription to name a few. The consumable items are used once and are mostly in gaming apps. Non-consumable items are special features that you use permanently. These could be ad-blocking or app extensions. Conversely, subscriptions are used to unlock additional features or content inside the app. Moving forwards, in-app purchases also include unlocking app features like ad blocking, extra perks, premium content, etc. Take the MX player as an example. It is a well-known video player with ads in the free version. You can buy the MX Player Pro version with no ads streaming.
Sponsorship Model
Sponsorship is a less common but profitable model to follow to make money from a free app. This model is usually available for development that has a determined targeted audience. You can gain more profits from applications that have a specific market niche. So, you may reach out to sponsors in the same industry. This will help you match their brand with ads or adapt the app design and information to the brand.
You can make a sponsorship deal in two primary ways:
Divide revenue from the app equally.
Set periodic sponsorship fees (weekly, monthly)
As there is a high potential for outreaching potential audiences, businesses keep an eye on top-performing apps. This lays an efficient and productive monetizing strategy to rely on and earn money through it. App publishers also need to consider sponsors whose target audience is the same as the one being addressed within the app. Also, it is a good start to create a list of organizations and brands that could benefit from the partnership before building the app.
Referral Marketing
Referral marketing relates much to the in-app advertisement model for monetizing your app. There is even a separate approach to marketing which is affiliate marketing. You have to place the informational content about an affiliate company in the app. And you receive shares or awards based on clicks and installs. These rewards depend upon a cost-per-action (CPA) model or revenue share.
With referral marketing, app publishers can promote or sell affiliates' products or services based on the number of clicks or installs. You can use pop-up ads to promote someone else's app or advertise products for this purpose.
The campaigns used in referral marketing include:
Cost Per Acquisition (CPA)
This model is based on the customers' engagement after interacting with the app.
As the name symbolizes, you get paid for the number of times a person clicks on the advertisement.
It is more focused on video content. The advertiser pays for the number of views an ad receives while being on the app.
This model is action-specific. This means that you will get paid for the number of times a person clicks the ad and installs the app.
Wrapping Up
Finally, the dispute about free apps making money comes to an end. Hopefully, this article helps you know the secrets of mobile app monetizing strategies. Feel free to leave a comment below. FlutterDesk is always there to help with mobile app development in any way.